La Quinta Resort & Club,La Quinta, California
website: laquintaresort.com
$50 pet fee-donated to SPCA
Rates from $150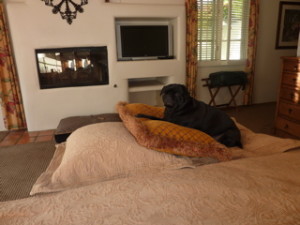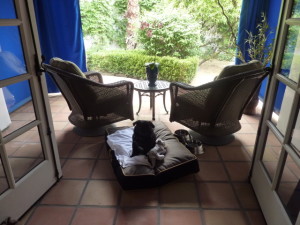 La Quinta Resort & Club— just 19 miles southeast of Palm Springs (the town was named after the resort) is and has been a world class desert recreation resort for the last 84 years, attracting movie stars, avid golfers, harried city dwellers and couples seeking "down time", to the 45 acre resort nestled amidst fragrant citrus trees, winding paths, towering palms and surrounded by spectacular panoramic views of the Santa Rosa Mountains.
For those of us who prefer to get-away with our canine companions, La Quinta offers their outstanding Paws La Quinta program for a nominal $50 fee (or optional donation to the SPCA) that includes amenities such as luxury dog bed, bowls, treats, and access to most Resort and outdoor dining areas (with the exception of indoor dining restaurants and pools); traveling tips for vacationing with pets; a resort map with designated doggie relief stations (two in each section of the resort) and nearby pet stores.
The world class spa with indoor and outdoor treatment rooms offers an extensive menu of services and the spa director is planning to include pet massages.
We indulged ourselves with a cottage suite that features a completely private, enclosed grassy backyard and large sautillo tiled patio.
Few canine restrictions, great restaurants with live music, gorgeous landscaping, dog biscuits kept in a help-yourself jar in the lobby- what's not to like?