The Shorebreak Hotel, Huntington Beach, California
website: shorebreakhotel.com
no pet fee
no weight restrictions
Rates from $125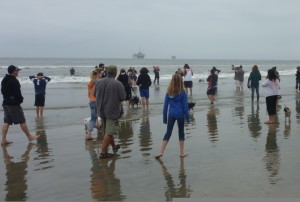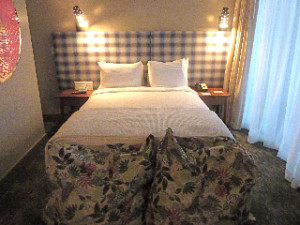 Huntington Beach received the honor of being named the official DogTown 2009,  as a city that "receives dogs with open arms and provides them with the joys of life," according to Dog Fancy magazine editor Susan Chaney.
The Shorebreak hotel is the hotel of choice for the canine competitors in the September  annual Huntington Beach Dog Surfing Event.  Additionally, The Shorebreak Hotel shows some serious puppy love with the launch of their "Dog is Beachin' VIP package".
When booking a hotel room for two (2) nights, Friday through Sunday in September (the weekend of the Surf City Surf Dog Event), guests and their canines gets a super rate which includes, a private pet portrait, $100 credit to their award winning restaurant plus a portion of the package sales go to a variety of pet-related charity partners.
We loved the cool surf decor and artwork – the hotel even has an art gallery in the lower level.  The pet indulgent Shorebreak Hotel welcomes furry guests along with their humans on the popular Zimzala Restaurant dining terrace and frequently has canine fashion shows and "yappie" hour for pets and their people.  A convenient "faux grass" pet potty area is located off the main lobby.
Life is good at the Shorebreak where canine guests have the option of in room dining where they can relax on complimentary pet beds and order from a "Mans Best Friend" Pet Menu featuring 5 healthy entrees (prices start at $8).
The Shorebreak is located in a new upscale restaurant and retail store complex directly across from the beach with great walking and bike riding trails.