L'Ermitage Beverly Hills, California 90210
website: lermitagebh.com
Pets under 40 lbs welcome
$150 pet fee
Rooms start at $400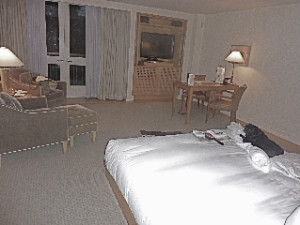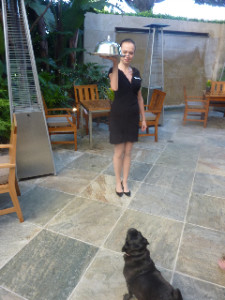 L'Ermitage, Beverly Hills
Phoebe Rose, celebrity pug, had the pleasure of enjoying the pet friendly amenities of the popular boutique hotel L'Ermitage, Beverly Hills as the first stop on her recent summer 2012 road trip from Los Angeles to Austin, Texas. 
L'Ermitage is nestled in the heart of Beverly Hills and the haute hotel of choice for savvy out of towners, Red Carpet celebrities and a popular venue for Grammy, Oscar and MTV award show gifting suites. The elegant and low key star wattage of this luxury pet friendly hotel guaranteed a most relaxing and welcoming visit with extra special VIP and VIC (very important canine) treatment.
Our premier room was 700 sq feet of minimalist luxury-complimentary pet bed, treats, bottled water and food dishes. Pet and people amenities are first class-as expected. Pets are welcome to dine on the patio of Livello-the hotel's signature Asian/Italian fusion restaurant.   Phoebe selected the "Chicken-Party Animals" (hormone and antibiotic free) from the "Best Friends Pet Menu" as her main course-skipping the appetizers and after dinner treats (she is watching her waist line)-a portion to satisfy a Great Dane-reasonable priced at $10.
Pet Spa services are available through nearby West Hollywood's Healthy Spot and a walking service is provided by the hotel staff ($10). Grassy areas surrounding the exterior of the hotel and neighboring residential streets, ensure convenient potty  breaks.
The hotel staff was accommodating and the service excellent. A super pawsitive experience in every way.
The lifestyle of the rich and famous for pampered pets and their luxury loving humans.