Beverly Hills, California
Maison 140 140 South Lasky Drive,
website: maison140beverlyhills.com
$100 pet fee per stay-canines under 50 lbs.
Rates from $155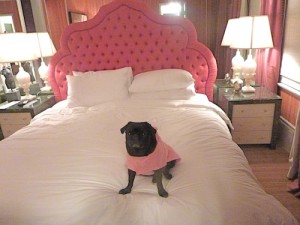 Phoebe Rose at Maison 140
Maison 140, a uniquely stylish 43 room boutique hotel (a 1930's residentail apartment house formerly owned by silent screen star, Lillian Gish) is part of the uber chic Viceroy Hotel Group and is located in an upscale residential neighborhood buy viagra online cheap us just a few blocks from the Rodeo Collection —the glitzy power shopping heart of Beverly Hills.
A power outage was a convenient excuse to book an overnight stay and enjoy the hotel's recent renovations by Viceroy super star interior designer Kelly Wearstler.
Eric Ma, Sales and Catering Manager for Maison 140, emphasized that the hotel enthusiastically welcomes well behaved pets (dogs only-s'il vous plait) and provided thoughtful amenities including food bowls, bedding and doggie treats.
Hotel guests are advised not to leave pets unattended in rooms and Ma added that he has on occasion "been a pet nanny" for a guest's pooch and advised that the concierge will graciously arrange for a staff member to pet sit if guests choose to linger in the intimate and tres elegante Bar Noir, featuring silent movie screenings and popular with the locals.  Grassy areas abound outside the front entrance and self parking is convenietly located adjacent to the hotel.
There is no on site restaurant but room service is available, 10 am to 9:30 pm (from neighboring Beverly Hills restaurant, Mosaic) – should you prefer to dine comfortably and at leisure with your furry friend, as we did and enjoy the sensuous, bold and retro styled Parisian custom designed furniture, wall coverings and antiques in your one of a kind accommodations.  This hotel is truly a "hidden gem."