San Francisco Intercontinental Hotel
San Francisco, CA
Rooms begin at $250
pet fee is $50 pet night
Upscale pet amenities are included.
Downtown San Francisco is the location of the ultra modern San Francisco Intercontinental Hotel. The 7th floor is designated for pets and features deluxe rooms and suites with floor to ceiling windows purchase viagra us showcasing city views and easy access to the outside lounge area. 
Referrals for dog sitters, groomers and pet boutiques from the congenial concierge. The staff is pet indulgent—Phoebe Rose could barely set a paw down, before she received either a dog cookie or a chin scratch. Be prepared to admire photos of Intercontinental furry family members.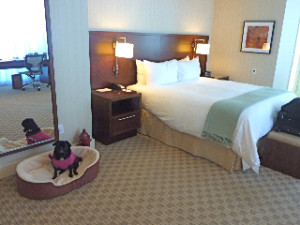 There is a small grassy area for potty breaks in back of the hotel (or around the corner) and a staff member accompanied us to area!
This hotel prides itself on going the extra mile for guests and offers a Club lounge with complimentary breakfast buffet (European style), afternoon tea and sweet dreams snacks. Unlimited alcoholic beverages and complimentary Ipads—its no wonder some guests spend all day and most of the night here. For an extra $40- possibly the best deal in town!