Hotel Encanto de Las Cruces
www.hotelencanto.com
King Standard room rates begin at $109
Pet fee $25 per night
no weight or size restriction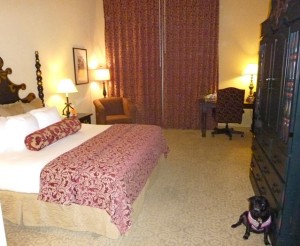 Hotel Encanto de Las Cruces is a privately owned, former Hilton hotel (don't be mislead by the uninspired exterior) but completely renovated in 2007— continued upgrades include the current construction of an outdoor Olympic sized swimming pool, lush landscaped garden and gazebo.
The Spanish Colonial inspired décor reflects the heritage of the founding of first European settlement along the upper Rio Grande and creating the road linking the New Mexico provinces to the religion, language and architecture of the colonial capital.
Our attractively furnished standard King room, located on the lobby (2nd floor) was exceptionally quiet— even though facing a busy main street and a construction crew is working on new Olympic pool and gardens (work permitted only during mid morning to late afternoon).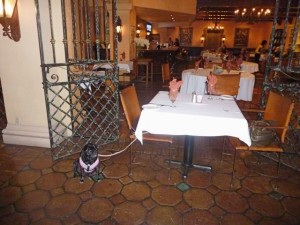 The hotel's Gardunos restaurant is remisniscent of a traditional hacienda style cocina seving authentic regional New Mexican cuisine. I ordered the Red Snapper Veracruz—a generous portion and very tasty. The chile rellanos were given a rating of 5 stars by neighboring diners. The complimentary salsa is fresh and mui caliente. The restaurant offers a full bar (with an extensive selection of premiere tequilas)—Food and Beverage Director, Patrick Hendricks is committed to providing an exceptional dining experience.
Pets can accompany diners at tables on the perimeter of Gardunos restaurant and in the sautillo tiled (pet friendly) lobby.
In room dining is available 6:30 am -11am.
Entertainment is featured at the Azul lounge and nightclub— a popular weekend hotspot for locals.
Pets are welcomed with a gift bag and convenient gravel and grassy potty areas are available outside the hotel. A local dog park is a 5 minute drive from the hotel.
Manager on duty, Becky said "We work with people" and pet rules do not specify a weight restriction. The hotel can sometimes go over the 2 dogs per room rule (if small)—great for those who like to travel with an extended pooch family.
Manager, Becky will on occasion, take a canine guest (left unattended and barking in room) and keep with her behind the reception desk until the family members return.
This Heritage Hotel property continues the tradition of community sponsorship with cultural programs and events, non-profit and scholarship programs and is uber environmentally conscious.
Steps away from the hotel is the Mesilla Valley Mall—over 40 discount and retail stores, a movie theatre and restaurants.