Hotel Santa Fe, Hacienda and Spa, Santa Fe, NM
http://hotelsantafe.com/
Rates begin at $149
No pet breed or size restrictions-$20 per pet nightly (2 pets maximum)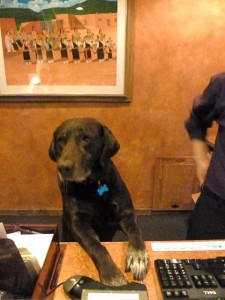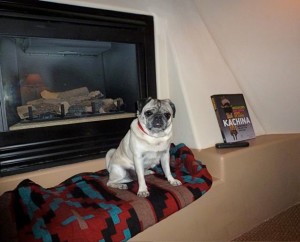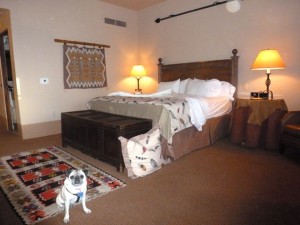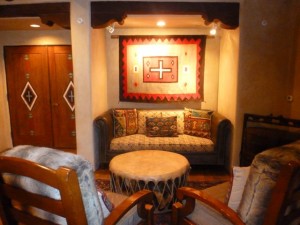 This was my second time staying at the Hotel Santa Fe. This exceptionally well run property has the healing power to soothe the savage beast that lurks inside the weary traveler.  I arrived at the hotel in a fairly disgruntled state and the true litmus test of a great hotel is the ability to change my attitude in a matter of minutes.  The warmth and hospitality of the front desk staff, the owner, Paul, the Hacienda Butler, Peter, all conspired to shift my disgruntled mental state to cheerful wellbeing.
My king bedroom in the Hacienda building was very attractively furnished—super comfortable bed and quality bedding.  As the only Native American owned hotel in Santa Fe, the furnishings and art work are harmonious and generously displayed— Kiva style fireplace, fine hand crafted furnishings and luxury bathroom amenities. I honestly can't find one detail that has been overlooked, including New Mexico art books in room.
Pet friendly plus! Owner, Paul's canine mascot, Herman meets and greets at the front desk and canine guests receive dog cookies, pet waste bags and a map of the hotel's Puppy Professional Park (where doggies do their business).
We had a wonderful dinner in the (full)bar section of the Amaya Restaurant where my furry companion was able to join me.  Sophie, the restaurant manager, adds a cosmopolitan air and European hospitality and new bar employee, Birdy, made a Cosmopolitan extraordinaire.
Families definitely feel welcome here but there is a wonderful sophistication still to be savored.
In warmer weather, guests are able to relax and enjoy the outdoor swimming pool, hot tub and dining area patio.
Full spa services, which I intend to explore on my next visit.