The Holland Hotel
Alpine, Texas
website:http://thehollandhoteltexas.com/
Rooms start at $129
No pet fee
The Holland hotel's lobby is impressive and   welcoming with upgrades and authentic restoration that keep the integrity of this historic Trost designed hotel —similar examples of architect, Henry Trost's Texas hospitality and vintage cattle baron charm are displayed at the West Texas El Capitan, Paisano and Gage Hotels.Complimentary beverages are available 24/7 in the bar area as well as yoghurt and a continental breakfast served until 10am.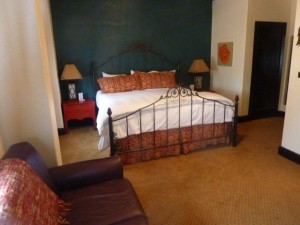 Standard room
The room was immaculate (as is the entire property) and guest comfort is well executed in all the upscale details. The hotel has a prime location on Holland, the main street in town—just steps to local restaurants and shops.
I arrived in the late morning after an 8 hour train ride from San Antonio, Texas (the station is conveniently located right across the street) and was able to check into my room prior to noon (unlike most hotels that restrict check-in time to 3 or 4pm).
Free WIFI, free parking (in the adjacent lot or side streets), complimentary continental breakfast, refrigerator/microwave and coffee maker in room—and pets are welcome!
A luxury hotel experience at an affordable price!