Sheraton Toronto Airport Hotel and Conference Center
801 Dixon Road, Toronto, ON
www.sheraton.com/torontoairporthotel
no pet fee/guests sign liability waiver
no weight or size restriction
Standard room rates begin at $150(weekends)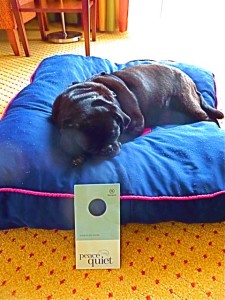 The Sheraton Toronto Airport Hotel has a warm and welcoming staff and exudes hospitality plus!
I slept blissfully in my comfy king pillow top bed. Stylish lobby and hospitality lounge on 8th floor (Starwood preferred guest or $30), complimentary American breakfast of fruit, eggs, pastries, yoghurt and 24 hour beverages.
The details make it seem like a luxury property—spa robe, luxury bathroom amenities, warm wood classic décor, a panoramic view of lush golf course and skyline. Very quiet, peaceful, (overhead airplanes fly only sporadically) flatscreen tv, coffee maker, upgrades and immaculately clean. We had no complaints, as this is a very well run property.
The complimentary airport shuttle (hotel is just minutes from airport) was already waiting when I landed at 1am and runs regularly. Pet amenities included a welcome bag, oversized pillow bed (phoebe loved it) and food bowls and a bedtime snack of bacon (courtesy of front desk staff).
Weekends are bargain rates as weekdays focus on corporate guests.
No weight or size restrictions for pets.
No pet fee (waiver must be signed).
$15 self parking, $5.95 WIFI