Omni Hotel, Austin, Texas
website: omniaustindowntown.com
pet fee: $50 per room, per stay
Rooms start at $170 (check for seasonal variations on price)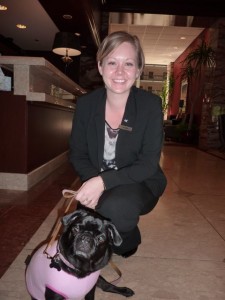 After our relaxing stay at Lake Austin Spa, we made our way back to the city and headed downtown to the contemporary Omni Hotel.
Allison Battin, the Loyalty Ambassador, made Phoebe a special pooch package (including rawhide chewies and a squeaky toy), a welcome note and detailed maps and locations of nearby pet friendly restaurants and dog parks.
The room service menu includes several canine selections (now that really says "howdie" to a pooch!).  There is a lush grassy park (doggie relief station) a short walk from the hotel.
The hotel's rooftop patio features a heated splash pool, spa tub and expansive views of downtown Austin.
Comfort, convenience (free WIFI) and class…count us in!