The Mansion at Judge's Hill, Austin, Texas
website: mansionatjudgeshill.com
no size or weight restrictions
standard room rates start at $175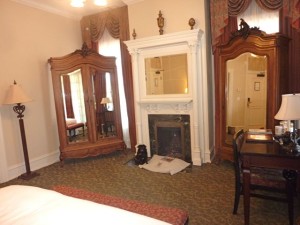 The Mansion at Judge's Hill is a boutique hotel located in a charming historic section near the University of Texas and in fact the original building was constructed in 1900 as a wedding gift by one of the University Founders. We stayed in the third floor attic bedroom ( antique furnishings plus every modern convenience).
There are no size or weight restrictions for canine guests, 24 hour room service, complimentary pet goodies, fleece bedding and the pet indulgent staff often bring their pooches to work. Convenient self parking right in front of the hotel and there is a large grassy front yard and adjacent park. They even had a current issue of Pet Fido in our room.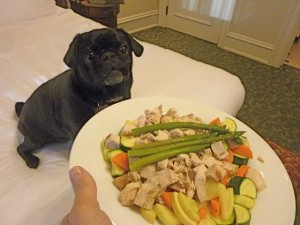 The atmosphere of genteel refinement brought out Phoebe's best behavior and was suitably rewarded with an excellent selection from the room service menu.