Loews Hotel
4000 Coronado Bay, California
website: loewshotels.com
$25 pet fee per stay-canines under 22 lbs.
Rates from $175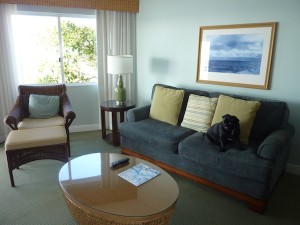 Loews Loves Pets is the name of the pet amenity package offered by Loews Coronado Bay- situated on a private 15 acre peninsula surrounded by the Pacific Ocean and San Diego Bay and 15 miles from downtown San Diego, California.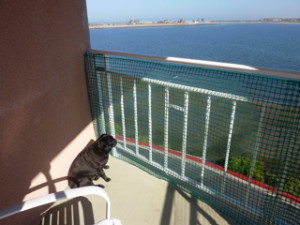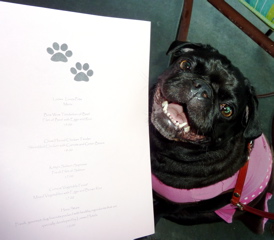 As every discerning well traveled pooch knows, attention to details makes all the difference in canine (and human guardian) comfort.  Warmly greeted at the front desk by staff member Lizzie, we received a list of local pet service providers (animal hospitals, groomers,dog sitters) and nearby pet friendly activities. Loews offers pet amenities including a room service pet menu, bottled water, food bowls and doggie pick up bags (Loews are a cut above- shaped as mitts and with French subtitles).
Our junior suite (separate living room and bedroom) was very attractive and comfortably furnished.   A plastic fence was attached to the balcony overlooking the bay (for pet safety).                                        
The Market restaurant terrace overlooking the Marina is dog friendly and stays open till 10 in the evening. Our solicitous waiter brought a room service pet menu and quickly poured bottled water into her bowl. Phoebe selected the Chow Hound Chicken Tender dinner (a generous serving of shredded chicken with carrots and green beans) from the 4 entree menu.  Although her $18 entree is somewhat pricey-its nice to know that 100% of the proceeds go to the American Kennel Club's fund for Search and Rescue.
The restaurants and most hotel rooms have water front views and guests can enjoy Italian gondola rides. Staff service is warm and friendly, hotel common areas and rooms feature tasteful nautical decor and upscale comfortable furnishings, luxury thread count linens, superior beds and the little (important) extras you would expect from a Loews hotel.