Dana Point, California
St. Regis Hotel, Dana Point, California
website: stregis.com
$100 pet fee
Rates from $225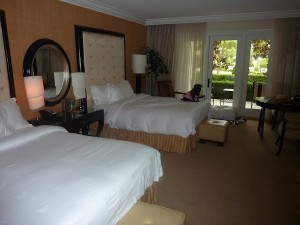 Ocean view walking trails, an off-leash dog park,  private patios leading to lush grassy areas, St. Regis monogrammed dog beds, designer "Chewy Vuitton" toy purse, treats and enough adulation and attention to satisfy
the inner diva/divo of any pooch. 
The St. Regis is in fact the only hotel granted the distinction of the 5 star rating based on service, amenities and décor.  We were not disappointed.
The dog friendly rooms and suites are limited to the first floor to ensure maximum comfort and convenience for easy access to outdoor areas.  The private patio in our suite led to the pristine lush grassy grounds and walkways and showcased the panoramic view of the Pacific Ocean.   If I had evening plans that did not include Miss Phoebe- a pet sitting service could be arranged ($16 per hour and a 4 hour minimum).
Although most of the hotel fine dining restaurants are off limits to pets, there is a small, charming café (Crust) that is conveniently located near the pet friendly rooms, where in fact I spotted several furry guests quietly peering out from under tables or sitting sedately beside their human family members.  The management and staff brings pet friendly to a stellar pet indulgent level and relies on the good judgment of human guests and appropriate manners of canine guests.
The local off leash dog park is a short few blocks away and the hotels is close to the walking trail that runs parallel to the coastline.  Dogs are not allowed on the beach, but again, this must be a guideline rather than a rule – as I observed several pooches enjoying themselves in the "off limits" sandy areas.
The St. Regis defines relaxed elegance and laid back luxury.  Treat yourself.