Hotel El Capitan, Van Horn, Texas
website: hotelelcapitan.com
Pet fee is $50 per stay
no pet weight limit
Standard Queen Rooms begin at $99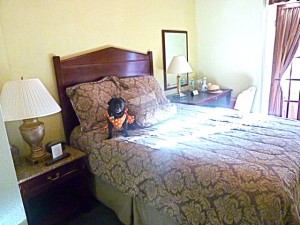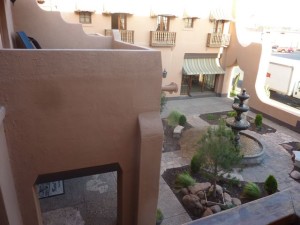 This was our 2nd stay at the charming historic Hotel El Capitan in Van Horn, Texas. We stayed here on a road trip to Austin, Texas last May and looked forward to returning.
I particularly enjoyed the dinner at the hotel the last time—and although there is a new chef —the food is fresh, well prepared and nicely presented. The Spring Salmon was tasty and there is even gluten free pasta is on the menu.
Although the service can be slow—no one is in a hurry in this town as there is not much else to do and a leisurely pace.
Pets are welcome to dine on the hotel patio—but BYOB (bring your own bowl)  since no pet bowls are provided by restaurant or in rooms.
The Gopher Hole Bar is a popular watering hole with both guests and locals.

Historic rooms are small (as expected)—1930's accommodations were never spacious, but nicely restored and the bathrooms are updated with upscale touches. Our queen courtyard room had a mini railing and view of the courtyard fountain.

The railroad tracks are in view and passing trains just add to the vintage ambience.
All pets are welcome (General Manager, Ralph Gilmore does draw the line at snakes).

The lobby and living room are tastefully furnished with retro decor and mirror the esthetics of Hotel Paisano in Marfa—both designed by popular Southwest architect, Henry Trost.